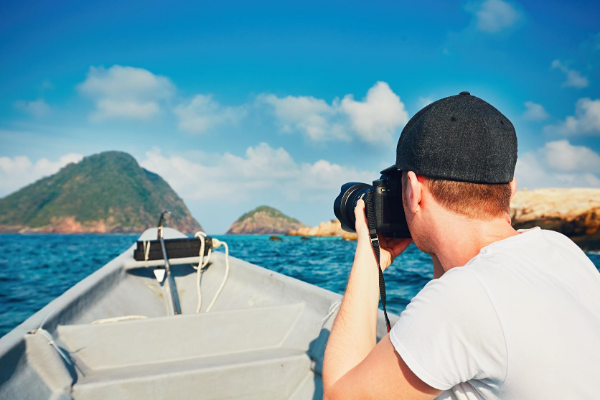 Posted on
August 16, 2020
If your company is in the marine sector and you are not receiving leads from your digital marketing efforts…something is wrong.
What Is The Secret?
It comes down to fully optimizing a combination of six digital marketing tools that I will walk you through here. If you have any questions, go ahead and email me directly at Kyle@Brandfueled.com.
Let's get started.
What Are The Six Digital Marketing Tools Needed To Grow Your Marine Business?
The six tools below make up only a portion of the digital marketing suite. However I have hand-picked these areas as they have the largest impact on companies in the marine sector.
Table Of Contents
Easy enough?
Before we jump into optimizing each of these areas, let me start off by saying you MUST already know your target audience. I will assume since you are the company owner or marketing chair, you have a solid grasp of who you are selling to. If not, go back to the business plan and make sure your target audience is defined.
Now that that's out of the way, let's start with the first digital marketing tool.
1. Company Website: Basic Requirements
Your website will most likely be the first touchpoint customers have with your company. This means it needs to be a proper reflection of your brand! It should be clean, continually updated, and it should answer your customer's questions.
Below are the exact items we look for when performing website consultations for clients. If your company website is missing any of the following, you may be losing potential customers.
Contact Page
Marine consumers, especially within the boating niche, tend to have plenty of questions before making a purchase. A basic contact page is the easiest way for them to reach you.
The page can be as simple as a phone number and address, or as in-depth as multiple contact forms with integrated Google Maps. However you do it, just be sure to test it yourself to make sure you are receiving your leads.
We highly recommend placing your contact page within your main menu and the footer of your website.
Example Contact Page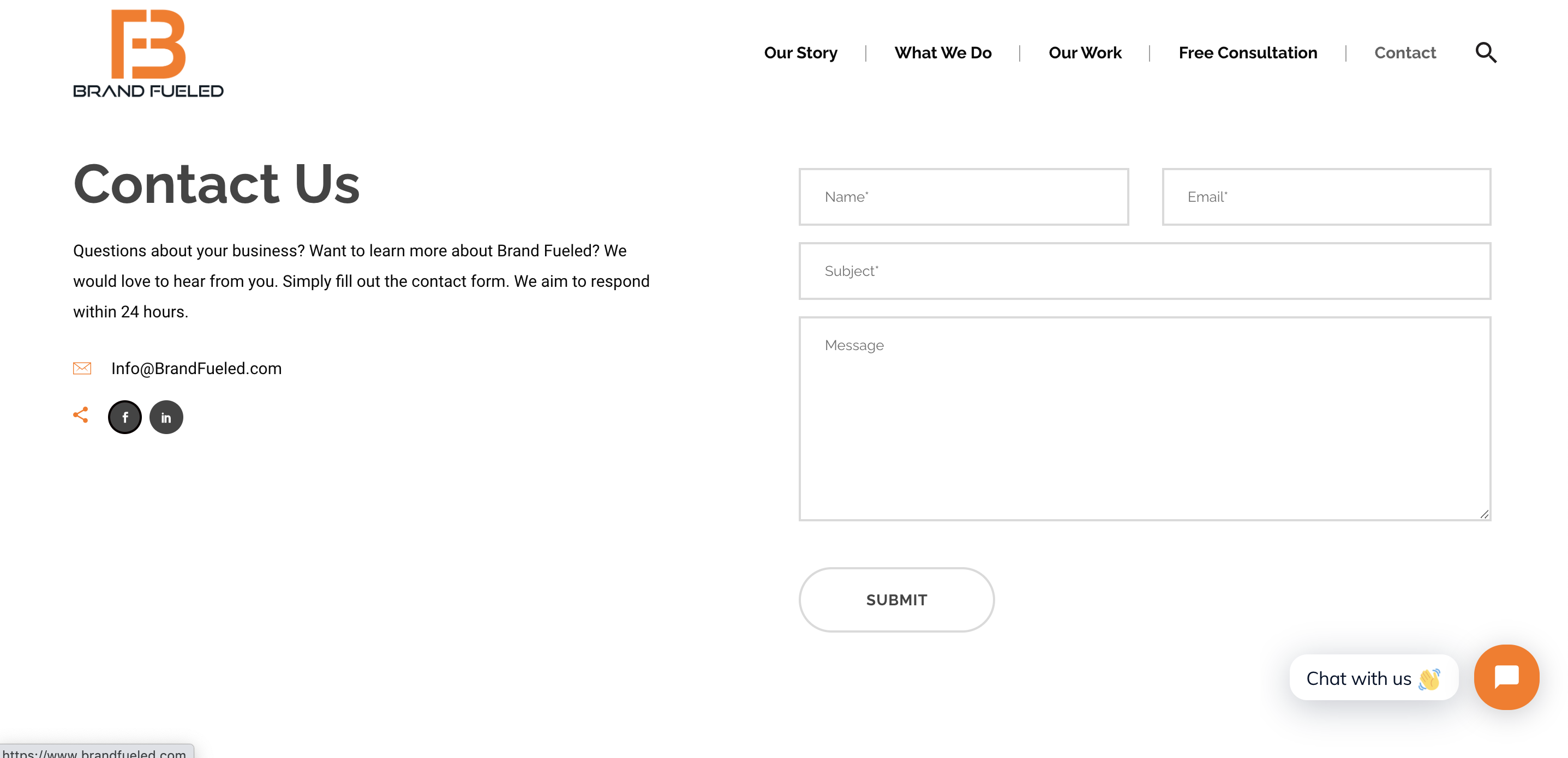 Our simple yet powerful contact page provides the exact information our clients are looking to find.
Testimonials Page
Did you know 83% of people trust reviews over advertising (1)? This is the power of social proof.
Gaining testimonials is easy and featuring them on your site is even easier. Reach out to existing satisfied clients with a simple email or phone call: "We are glad you have enjoyed our product and we would love to feature your feedback on our website."
Other places you should feature testimonials, when applicable, include: Google My Business, Facebook, Yelp, Tripadvisor and more.
Keyword-Based Homepage
We will discuss search engine optimization below, but the basic overview is that your website needs to include the keywords a customer would search for in order to find your company.  If you sell pontoon boats, the words "pontoon boats" and "pontoon boats for sale" need to be included on your home page multiple times. For an in-depth look at SEO, check out our post on getting started with SEO.
Example Homepage Keywords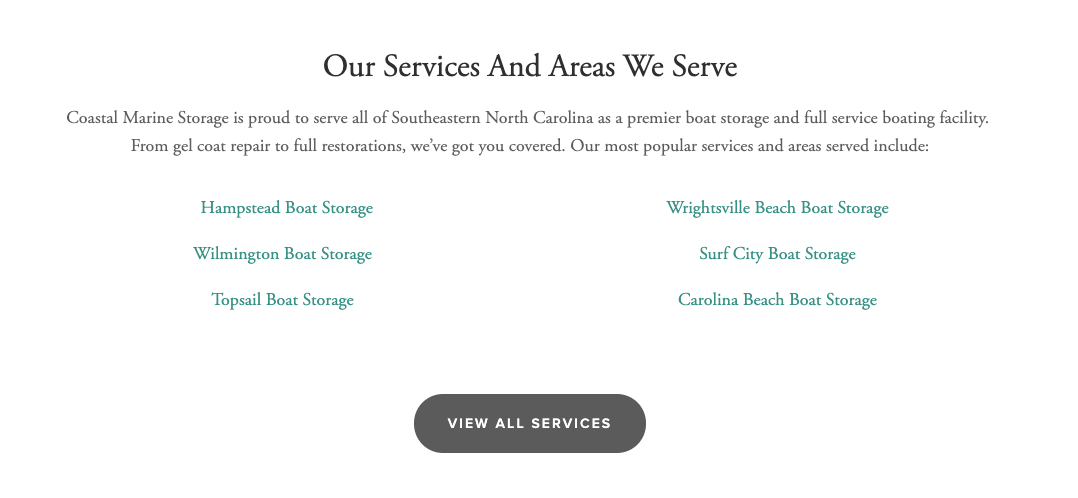 A keyword stacked area of Coastal Marine Storage's homepage resulting in first page search results.
Calls To Action
"Get Started! Click Here To Purchase! Buy Now!" Do these look familiar? Calls to action are what drive customer interaction and the end goal is to push these customers into your sales funnel. They can take the form of a button, contact form, clickable photo, or even just a simple hyperlink. Make sure every page has a purpose and a call to action.
Example Calls To Action

The Got  Fishues homepage showing plenty of Calls To Action.
About/Meet The Team Page
After building, hosting and viewing analytics for more than 20 companies over 10 years, I can personally say the About page is always within the top 10 most viewed pages. Why? People buy from people and like to know who is behind your company. Including photos, a company story, and a small bio for each employee is a great way to build out this page.
Optimized Sales Page
This one may sound obvious, but your product page needs to be perfect. This means proper SEO, easy contact options, customer support, mobile-friendly, and most of all…easy purchasing for the consumer.
There are hundreds of other ideas and concepts that your site should be optimized for, but the five areas above should all be top priority. Now that your site has the basics, let's move on to search engine optimization.
---
2. Search Engine Optimization
SEO can be a bit of a buzzword, especially within the marine industry, and it is important to clarify what it means on a basic level. SEO, at its core, is the combination of best website and content practices you can use to gain a higher rank for your company in search results for given terms. It all starts with keywords.
Understanding Keywords
Keywords and key phrases are how a customer will find your website. Ranking for your own company name will take time and depends on how unique your name is. But what about ranking for customer-searched keywords?
This is where SEO comes in. For example, if you specialize in custom kayaks and want to rank on the first page of Google for the term "custom kayaks', it will take effort. This includes optimizing landing pages with proper headings, naming images after keywords, and utilizing synonyms in the copy of the page.
Google's People Also Ask Function Is Great For Ideas

For a full guide on getting started with SEO, click here.
Long Tail Keywords
Long tail keywords are 2- to 4-word phrases and are generally easier to rank highly for, as there is less competition. Using the example above, a long tail keyword could be "custom kayaks with graphics" instead of just "custom kayaks." Since there are likely fewer companies offering graphics on kayaks as opposed to just kayaks, you will have a better chance of ranking well by utilizing long tail keywords.
SEO Toolbox
There are plenty of free tools available to help you manage your company's SEO. If you have questions or need help with any of the tools below, shoot us a message.
Google Search Console: Measure website traffic, be alerted to issues, and monitor mobile usability.
UberSuggest Keyword Tool: A great tool for finding keywords for your company.
Broken Link Checker: Broken links hurt your SEO and the customer experience. This tool helps you find any broken links on your website.
For more ideas on SEO and ways to find keywords related to your business, check out our full post on Getting Started With SEO.
---
3. Content Marketing
Nearly every company in the marine industry has a very visual product, which is lucky for you: Visual products make content marketing easier. Let's talk briefly about the core idea behind content marketing and then jump into how you should be utilizing it.
Why Create Content?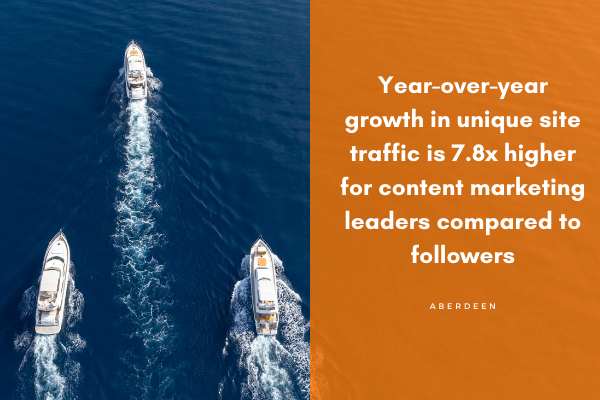 The "content is king" era has passed and we have entered the "create content to stay relevant" timeline. Back in the day, if you created an awesome blog post and were one of the first in your niche to do it, you could bank on it being shared out and increasing traffic to your site.
Now, since everyone is creating content, it has become another necessary piece of the digital marketing puzzle. However, one great piece of content can still change your business forever.
Blog Posts
Consistent blogging using keyword targeting is one of the most powerful forms of content marketing available. For example, one of Yachts360's blog posts has driven well over 5000 people to the website in just a year. That is 5000 potential customers who are now on their site and are one click away from Yachts360's inventory.
What Do I Blog About?
You are the pro when it comes to your product offering. Whether you are also a writer may be questionable, but writers are easy to hire via sites like Upwork or by shooting us a message. The easiest way to get started is to consider what your potential customers are typing into Google.
People Also Ask (Your Secret Weapon)
Simply Google a question you think a customer may ask and then take a look at the "People Also Ask" section Google creates. Boom. Those questions are a great starting point.
For example, if you own a speargun shop, try typing in "Is spearfishing hard?" and check out the other questions people ask. The key here is if someone is asking this question, they are most likely in the speargun market. If you have answered this question on your blog or website, they will see your brand, view your website, and consider you an expert in the industry. This leads to buying behavior.
By taking this approach to blogging, you are answering customer questions and driving traffic to your site. It's a win-win. If you need help coming up with blog topics, check out our post Creating Blog Post Topics In 2020 | An SEO Approach.
Photos And Video
It may come as no surprise that the largest social media platforms are all based around video and photo content. Think Instagram, Facebook, Snapchat, TikTok, Pinterest….the list goes on.
Do I Need A Pro Photographer?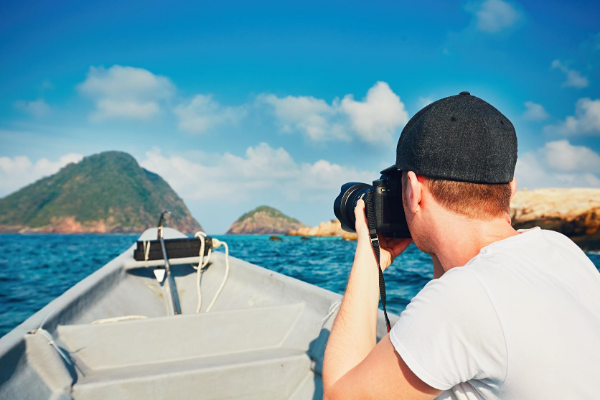 If you are shopping on Amazon and the product photos are pixelated and hard to see, would you purchase the product? Probably not. This is the same mindset you need to bring to your website and digital content photography.
Now, I'm not saying go hire Annie Leibovitz to shoot photos of your new fishing rods, but it is important to have great photos for your store, your social media channels, and your website. Local photographers can really make your product pop and your sales are sure to follow.
What About Video?
Studies show that 54% of consumers want to see more video content from a brand or business they support (2). This is where things can get a bit expensive if you shoot commercials or need a full crew to make a video surrounding your product.
However, one great video demonstrating your product can often be the extra push a company needs to start a snowball of success. In a pinch, your smartphone works great for short, explanatory videos and social media content.
Other Types Of Content
There is an endless amount of opportunity for content marketing. Below are just a few ideas to look into:
---
4. Social Media
Half of the world's population uses social media. So yes, it is important. Especially for marine brands!
Think about it. If you are a boater, fisherman, kayaker, surfer, or any kind of marine enthusiast, you LOVE to see photos and videos of your hobby. This is where a consistent strategy across select social platforms can transform your digital marketing efforts.
After working with a multitude of marine brands over 10+ years, the platforms below are the best for growing an audience—as they are all very visual platforms. Sure, there are hundreds of social platforms, but as of writing this article (2020) these are simply the best for driving revenue.
Instagram
Instagram is the ultimate social media tool in 2020 for marine brands. If you are on the fence about getting started, take a look at Trouts Fly Fishing's Instagram page here. You would be crazy to think that that page does not drive a large portion of their revenue. Thousands of people see everything they post and tens of thousands watch the videos.
So how do you get started on Instagram?
There are hundreds of guides (this one is solid for beginners) that explain the nitty gritty of growing your page, but the basics are as follows:
Post high quality content
Be consistent
Engage with your audience
Use hashtags
Most brands, slowly but surely, fall behind in the consistency department. Creating a high volume of content over a long period of time is tough, especially if there is no dedicated marketer within your company. We do offer content creation if you are interested.
Facebook
Yes, your company still needs a Facebook page. Engagement may not be what it once was unless you pay (we'll get to that later) but it is still one of the largest referrers of traffic for most marine companies.
It is important to completely fill out the About section of your page including hours, contact info, a backlink to your website, and any other applicable fields. From there, you can follow a similar marketing strategy to Instagram (minus the hashtags.)
Post consistently and utilize the platform as a second website where customers can find out more about your business and contact you directly.
Other Platforms To Consider
Your company needs to be present where your target audience spends their time. While Facebook and Instagram make up the obvious majority, the social media world shifts constantly.
Below are a few options to consider that depend completely on your product offering and the amount of time you are willing to dedicate.
Pinterest: Great for SEO and spreading images of your products
Twitter: Can be a great way to spread company news and/or offer customer support
Reddit: A well-thought-out article posted to the right subreddit can be a game changer
---
5. Email Marketing
Though it has been around for a while, email marketing is extremely effective when it comes to marine marketing. With global email users set to grow to 4.3 billion by 2023, you simply cannot ignore this part of the equation.
Building An Email List
Anytime you sell a product, offer a sign-up, or capture an email address, the customer should be added to the list. Yes, spam laws exist and you need to know the basics. But adding the right verbiage to your website will allow you to capture email addresses quickly. A few ideas to generate emails include:
A newsletter sign-up on your website
Social media contests requiring an email to enter
Special deals and promotions that require an email to access
Email Marketing Platform Choices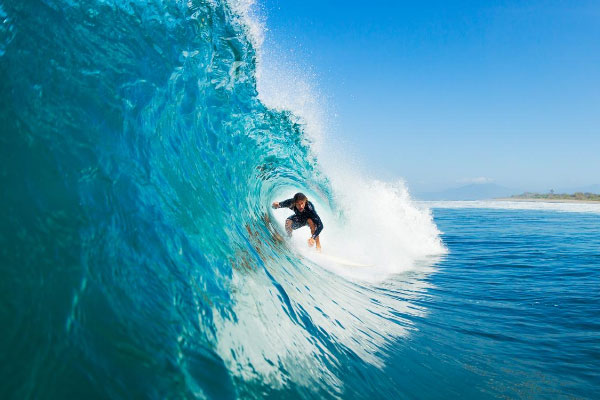 When you decide to email more than just a few people at a time, a solid email marketing platform is crucial. The options below vary in price, complexity and options, but they are all solid starting points. If you need a recommendation based on your company size, let me know.
Mailchimp: Great for smaller email lists and easily-templated email creation. Integrates well into most websites.
Constant Contact: More robust and extremely powerful at the cost of a steeper learning curve.
Active Campaign: In-depth platform with extremely data-driven email campaigns.
There are plenty of other platforms out there so be sure to find the one that fits your company best.
What Should I Send?
If you skipped over the content section above, now is the time to go back and read it. While you must adapt your content to fit the email marketing platform, most of the photos, videos, blog posts, and company news content can make up your email marketing strategy. Of course, large company events, sales and holiday promotions should also be considered.
Drip campaigns are also extremely effective. Some brands have seen as much as an 80% increase in sales. The three platforms above each offer drip campaign services.
How Often Should I Be Emailing My Customers?
Once a week is a good rule of thumb and has been shown to be effective. Once a month is about as far apart as you'd want to be, as you want to remain top of mind when your customers decide to buy. Unless you are offering a sale or contacting an abandoned cart customer, be careful emailing consumers more than once a week without a solid reason to do so.
---
6. Paid Digital Advertising
While some marketers may suggest starting here, we believe (and results have proven) that having all the above steps in place first will increase the effectiveness of any paid campaigns you implement.
Facebook Paid Advertising 
One thing to remember when running Facebook ads is that most people do not go on the platform to buy something. They want to see what their friends and groups are up to. That being said, Facebook advertising is extremely effective when properly executed and boasts some of the most cost-effective click-through rates of any platform.
Boosted Posts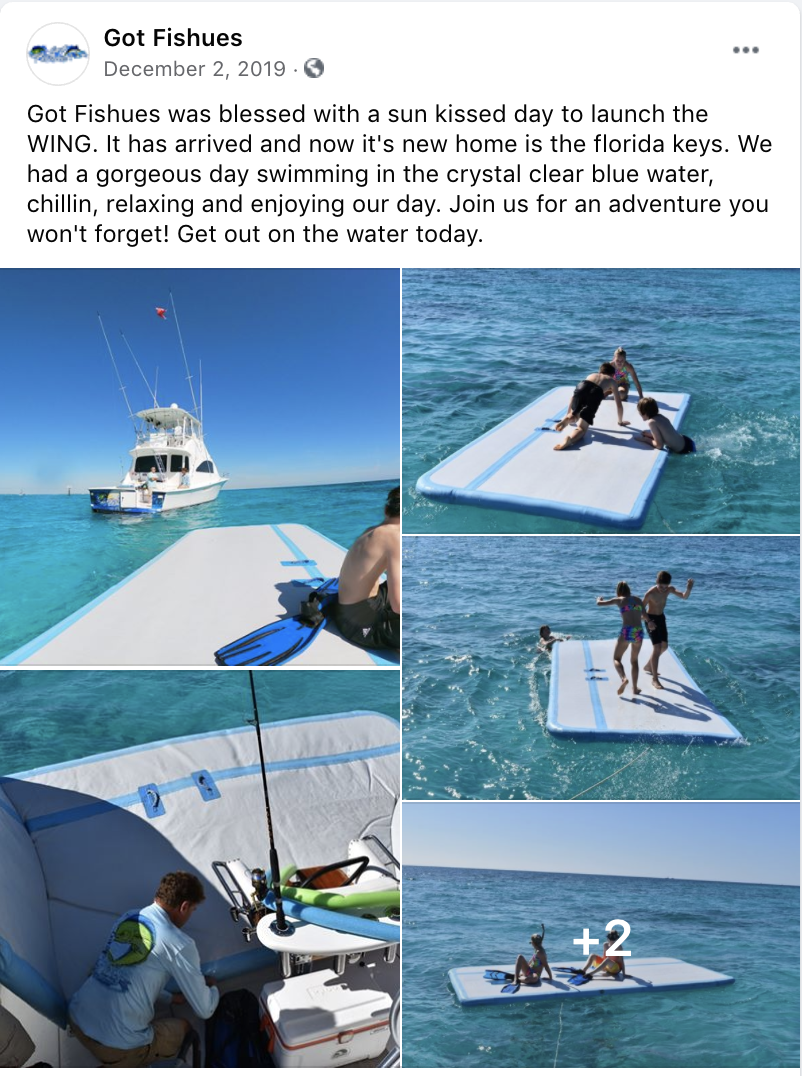 The easiest and quickest way to start with Facebook advertising is simply clicking the "Boost Post" button, then setting up the few options they make available. One area that you MUST pay attention to here is choosing your target audience. This will depend on your goals for the boosted post, but make sure you are targeting at the very least either a geographic area related to your product or people who have engaged with your brand.
Facebook Business Manager And Beyond
To really harness the power of Facebook advertising, you will need to set up Facebook Business Manager. This will gain you access to tools such as Facebook Pixel remarketing, creating in-depth custom audiences, and more. There is a bit of learning curve, but these are the same tools the pros use to run full-scale marine marketing campaigns.
Google Ads (Previously Adwords)
Google Ads has come a long way towards accessibility for non-marketers. The premise of this platform is auction-style bidding for keywords that consumers are typing into the Google search engine. These are the ads you see in the first four spots in search, as well as in a multitude of other areas depending upon the search query.
Google Ads is immensely powerful, since a customer typing in specific keywords is further along in the buying cycle than someone scrolling through Facebook. The main types of Google Ads include:
Search: Text and links you typically see in Google search
Display: Ads you may see as banners on your favorite websites
Video: Youtube ads and other similar video platforms
Shopping: Images of products that appear when you search for similar items
App: Promoting an app download
The deeper you're willing to dive into Google Ads, the more targeted and powerful your ads become. To learn the basics, head over to Google's Skillshop and discover how to set up a campaign.
Remarketing And Retargeting
You know the ads that follow you around after visiting a website? Or if you suspect your phone may be listening to you? However you may feel about these types of ads, they have shown to increase engagement by as much as 400%,  so let's take a look at your options (3).
The main difference between the two is that retargeting is primarily "cookie"-based (data that is captured when you visit a website) and remarketing is email- and/or list-based. Both are highly effective and come in a few forms.
Facebook Pixel 
Facebook Pixel tracks any action taken by a potential customer on your website and allows you to create custom audiences based on this data. For example, if you run a Facebook ad for a new boat line, once consumers click the ad and visit your site, you can then serve ads for the exact boats and pages they visited.
In the e-commerce space, a properly optimized Facebook Pixel is a game changer. Imagine being able to serve ads to abandoned cart customers, wishlist creators, and anyone who has purchased products in the past. This is all possible with Pixel.
To get started with Facebook Pixel, click here.
Google Ads Remarketing
Google Ads offers a very similar premise. By creating remarketing audiences based on consumer behavior, your ads can be seen across every device. These ads can be served up via Display Network or the Search Network and some companies have seen as much as a 161% conversion rate through proper remarketing (4).
Google Ads remarketing is a bit more complicated to set up, as you must already have Google Ads in place, but here is a good place to start.
PR News Releases
A well-thought-out press release will build consumer confidence in your brand, create great backlinks for your website, and is a great piece of content to share out to your audience. So what types of news are press release-worthy?
A few ideas include:
Launch of your company
New locations
Receiving funding
New products
Acquisitions
Be sure your release is written by a professional writer as PR releases must follow a very particular style and format. A few PR companies to check out include PR Newswire and E-Releases.
Media Buying
Last on our list, but still important at certain stages of a marine company's marketing lifecycle, is media buying. Media buying is purchasing advertising, usually in bulk, from an advertising agency who specializes in large scale campaigns.
We do not generally work in this space, but for marine companies with large budgets looking to expand their marketing reach, media buying is the next logical step. For good information on media buying, check out an article from SmartyAds here.
Wrapping It All Up
If you're still reading, I am proud of you! Following the advice step-by-step in this post will put you and your marine company on the right digital marketing path.
If you have any questions about any of the ideas and concepts above, drop me an email: Kyle@Brandfueled.com.
SOURCES
2. Hubspot Stat

Deprecated: Function get_magic_quotes_gpc() is deprecated in /home/customer/www/brandfueled.com/public_html/wp-content/themes/kudos/framework/lib/qode.functions.php on line 283